Wheego rent a car in AYT Airport, Turkey
It's a great idea to rent a car from Wheego, as the company provides outstanding service, a huge vehicle fleet, and everything you need for a wonderful road trip. The customer rating of Wheego is 6.7, while the average waiting time at the counter is 20 minutes. This means you can expect a first-class experience and arrange your rental quickly.
Looking for the perfect Wheego car rentals in Antalya? Fill out the search form at Rental24h.com to get started. We offer cheap vehicles of various sizes and types. Deals with unlimited miles, under 25 offers, and multiple insurance products are at your disposal. You can book your auto at a suitable airport or downtown location within Antalya AYT Airport.
If you need more information about Wheego, please take a look at the card on the right - it shows an average assessment according to customer reviews and allows you to judge the main characteristics of the provider.
6.6 / 10
Overall value for money
---
7.7 / 10
Cleanliness of the car
---
6.1 / 10
Service at the rental desk
---
5.1 / 10
Car hire pick-up process
---
7.8 / 10
Car hire drop-off process
Average waiting time is 20 min
Cheap Wheego car rentals in Antalya Airport
The lowest price to rent a car from Wheego is $15 per day or $79 per week in AYT Airport, Turkey. On our website, you can apply filters to help you find the best deals for your chosen fuel policy and equipment.
Want to find Antalya car rentals from Wheego at a cheap price now? Enter the desired travel dates in the search form at the top of the page and click the search button. Don't forget to compare deals by different parameters, as this step will allow you to save money. You can also sort offers in order to pick out a suitable car faster.
If you still don't know which car to choose, check out the cheap Wheego Antalya AYT Airport car rentals in the catalog below; inspecting their specifications can help you decide what you need from a rental car. Also, you can click on the desired deal to continue booking in in Antalya Airport.
Wheego rental cars in Antalya Airport [AYT] and other relevant cars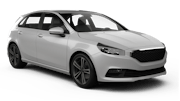 Unlimited mileage
Airport fee
Unlimited mileage
Airport fee
Unlimited mileage
Airport fee
Unlimited mileage
Airport fee
What do you need to know about Wheego in Antalya AYT Airport?
Rent a Wheego car if your goals are high-quality service and affordable prices. This company offers you smooth pick-up/drop-off procedures, a variety of cars for any taste, and a wide range of optional equipment. Also, you can enjoy discounts and pleasant loyalty programs. All these advantages make Wheego the perfect place to arrange a hassle-free road trip in the car of your dreams.
Before booking an auto from a particular company, review the available offers and compare them with competitors. Also, don't forget to weigh the pros and cons of each deal. For your convenience, Wheego rent-a-car phone number, address, fuel policy, and pick-up type are listed below. Pay attention to the bonuses you get with the supplier, which will ultimately help you make an informed choice.
Company name:
Wheego
Address:
Incik Pinari Caddesi, Güzelyurt Mah. No:33/5, Aksu - Antalya
Pickup type
Meet and greet
Bonuses
Customer drop off
Oneway rental fee
Limited mileage
Short facts about Wheego Rent a Car in Antalya Airport
Here you can find a quick overview of rental offers from Wheego in AYT Airport, Turkey. Get only the most important details: cheapest and most expensive car models, lowest and average prices and popular car groups for rent.
Most popular car group
On Rental24h.com, the most frequently booked and rented car group in Antalya is Mini.
Most expensive car model
Hyundai Kona
The most expensive car rental in Antalya AYT Airport is Hyundai Kona. You can find similar cars after filling out our search form.
Cheapest car model
Kia Picanto
The cheapest car rental in Antalya Airport is Kia Picanto. You can find this model or similar after filling out our search form.
Lowest rental price
$15
The lowest rate for a rental car in AYT Airport, Turkey is $15 per day on our website. The average car rental cost is $50 in Antalya.
How much does it cost to rent a car from Wheego in Antalya AYT Airport?
Average Wheego rent a car prices are around $20 per day and $108 per week. Wheego rates fluctuate from $15 to $32 per day and from $79 to $168 per week in Antalya Airport. Keep in mind that mini, economy and compact models fall into the lower price range. At the same time, luxury/premium cars and passenger vans cost above average.
The easiest way to find the cheapest deal is to check the Wheego car rental price comparison in AYT Airport, Turkey. Rates for the same car from a single company can vary - this variability is due to the presence or absence of products such as insurance, equipment, or extras in the default price.
Also, the cost varies depending on the location. The price for the same model at the airport and the nearby downtown office will be different, even if they lie within the same city. This is why comparison is the key to getting the best deal at the best price.
When calculating the total cost, make sure to consider extra payments such as one-way and under 25 charges. Finally, insurance and the cost of gas will also affect how much you pay in the end.
Best time to rent a car from Wheego in Antalya
The car class and the time of year you pick it up are further factors in deciding the final rate of your rental. Increased demand during the high season pushes rates up. Accordingly, you can find the best price to rent a car from Wheego during a period of low demand.
For your convenience, we have created a simple chart showing price fluctuations throughout the year. Consult the chart and choose the right time for your road journey to Antalya AYT Airport.
Things to know about Wheego car rental fees
When driving a rental car, various Wheego extra fees may apply. Consider what charges you may encounter and how to avoid them below.
Additional driver fee
Average cost: $15 (per day)
What is it? When you allow unauthorized persons to drive your rental car, you are in breach of the agreement. If you are caught, this will lead to an additional charge.
How to avoid? Book the additional driver option if you want to allow another person to drive. Be aware that a renter's spouse or domestic partner may legally operate a car without authorization.
One-way fee
Average cost: Depends on the drop-off point
What is it? When you drop off your car at a location that is different from your pick-up location, the company needs to return the car to its original point on their own. Thus, they apply a one-way charge to offset the related expenses.
How to avoid? Select the same location for both pick-up and drop-off. Also, a company may not apply a one-way charge when traveling between certain destinations, e.g. from Antalya Airport to the nearest city.
Late Return Fee
Average cost: $50 - $125
What is it? Travelers are subject to Wheego late fees if they are late to return their car. The supplier uses this charge as compensation for the expenses associated with exceeding the agreed rental period.
How to avoid? Return your auto on time and don't be late. If you are late, don't exceed the grace period during which the company won't charge you - usually, this is between 30 minutes and 2 hours.
Refueling fee
Average cost: Current fuel price + additional fee
What is it? According to the chosen fuel policy, you need to return the car with a certain amount of fuel in the tank. Otherwise, the company applies an extra charge for the missing gallons.
How to avoid? Carefully read through the Wheego fuel policy in AYT Airport, Turkey, and, if necessary, visit the gas station to fill the car up to the required level before returning. Always check the nearest gas station location in advance.
Under 25 fee
Average cost: $13 - $45 per day
What is it? Drivers under the age of 25 face Wheego underage fees calculated on a daily basis. This is a kind of compensation for the risk the company bears when an inexperienced driver operates one of their cars.
How to avoid? Benefit from AAA and USAA memberships, or travel on a military/government order. Also, you can choose someone older to drive the car on your journey, but only as a main driver.
Cross border fee
Average cost: Depends on the country
What is it? When you are going to cross the border and travel to another country with a rental vehicle, the company will ask you to pay a cross-border fee. This charge also includes the insurance required to legally travel within another country.
How to avoid? Don't cross the border, but move within the same country. Some countries don't allow people to cross the border with rental cars. You may therefore want to consider one-way trips or another alternative.
Extra mileage fee
Average cost: $0.25 - $0.49 per mile
What is it? Sometimes, you have a limited number of miles available according to the company policy. If you exceed the given quota, the agency applies an extra charge for violation of the agreement.
How to avoid? The best way is to choose deals with unlimited miles, especially if you are planning to travel long distances. If you have limited miles, don't exceed a certain daily quota and plan your itinerary accordingly.
Excess fee
Average cost: $200 - $1000
What is it? When an insured event occurs, you must pay an excess fee, the amount of which indicates the degree of your material liability. After that, the insurer covers the remaining amount of the damage caused.
How to avoid? Purchase additional coverage to avoid this charge. Alternatively, you can choose an insurance plan with zero excess. You can also get insurance with a credit card or Union/Trade Association, or from a third party.
Cancellation fee
Average cost: usually free, but may be from $50 & may reach up to rental cost (depends on the time of cancellation)
What is it? If you have booked a car and wish to cancel it after some time, the company may charge a cancellation fee. Usually you pay this fee if you cancel the reservation during the 24 hours before the start of the rental period.
How to avoid? If you have not prepaid for the reservation, no cancellation fees will apply. For prepaid bookings, you can avoid being charged by canceling the booking up to 48 hours before the pick-up date/time specified in the confirmation voucher.
Child seat fee
Average cost: $6.99 - $100
What is it? The provider applies a daily charge for the use of a child seat throughout your trip. Sometimes this fee is even higher than buying a new seat for your toddler.
How to avoid? Bring your personal child's seat from home, or purchase one from a store or thrift shop at your pick-up point. Alternatively, there are child seats available to rent at certain locations.
Wheego car rental requirements in Antalya
The company's policy stipulates the conditions under which you may drive one of their cars. Review the Wheego car rental requirements in Antalya AYT Airport below and make sure you meet them:
Comply with the supplier's age policy. The minimum age to drive a Wheego car in Antalya Airport is 20. Certain charges and car class restrictions may apply to 21-24-year-old customers.
Present a valid driver's license. It must be issued in the chief renter's name.
Bring a printed booking confirmation voucher with you.
Provide an acceptable payment method. A credit card is the preferred way to pay for a booking, but using a debit card may also be OK. Whatever the circumstances, study the company's payment policy carefully and make sure that the balance on your bank card is sufficient to pay for the reservation and deposit.
Map of Wheego car rental locations near AYT Airport, Turkey
To access the widest rental options select airport locations. If you are looking for a specific car, you can probably find it in Antalya. At rental points in the city center and in other locations, the car park is slightly smaller, but the prices are usually lower than at the airport.
Wheego car fleet in Antalya AYT Airport
Need a spacious minivan for a big family ride? Or maybe you are going on a romantic trip and want to pick up a fashionable convertible? Whatever your travel goals, we are ready to provide you with the best car for your journey. You get access to 10 Wheego rental car groups, including Economy, Luxury, VAN, Minivan, SUV, 6 seater, 7 seater, 8 seater, 9 seater, and Electric. Find the desired category below and click on it for more information.
Customer reviews of Wheego rentals at Rental24h.com
When it comes to choosing the right Wheego for your booking in Antalya Airport, proper comparison is a key. Discover the reassurance you seek through the video reviews from our satisfied customers who have already rented their cars on Rental24h.com. These reviews provide useful details on car models, pick-up locations, companies' specific details, etc.
🇺🇸 Thrifty Car Rental in Washington DC Reagan Airport [DCA], USA - Review of Rental24h.com
🇧🇶 CarVenience Car Rental at Kralendijk - Flamingo Airport [BON], Bonaire - Review of Rental24h.com
🇨🇿 Budget Car Rental at Prague Airport [PRG], Czech Republic - Review of Rental24h.com
🇭🇺 GAME Car Rental at Budapest Airport [BUD], Hungary - Review of Rental24h.com
🇮🇹 TargetRent Car Rental at Venice Marco Polo Intl Airport [VCE], Italy - Review of Rental24h.com
🇺🇸 Enterprise Car Rental at Reno-Tahoe International Airport [RNO], NV - Review of Rental24h.com
🇺🇸 Dollar Car Rental at Charleston Airport [CHS], SC - Review of Rental24h.com
🇺🇸 Dollar Car Rental at Seattle-Tacoma International Airport [SEA], USA - Review of Rental24h.com
🇺🇸 THRIFTY Car Rental at Denver International Airport [DEN], USA - Review of Rental24h.com
🇪🇸 GOLDCAR Car Rental in Barcelona – El Prat Airport [BCN], Spain - Review of Rental24h.com
🇬🇷 AutoUnion Car Rental in Preveza - Aktion Intl. Airport [PVK], Greece - Review of Rental24h.com
🇩🇴 EUROPCAR Car Rental in Santo Domingo Airport [SDQ], Dominican Republic - Review of Rental24h.com
🇺🇸 ALAMO Car Rental in San Francisco Airport [SFO], USA - Review of Rental24h.com
🇺🇸 FOX Rent A Car Rental in San Diego Airport [SAN], USA - Review of Rental24h.com
🇨🇦 Zoom Rent a Car Car Rental in Toronto Pearson Intl Airport [YYZ], Canada - Review of Rental24h.com
🇺🇸 Review of Rental24h.com: FOX Rent A Car Car Rental in Miami International Airport [MIA], USA
🇳🇿 Snap Rentals Car Rental in Queenstown Airport [ZQN], New Zealand - Review of Rental24h.com
🇪🇸 WIBER Car Rental at Malaga Airport [AGP], Spain - Review of Rental24h.com
FAQ about Wheego Rent-a-Car in AYT Airport, Turkey
How to find a cheap car rental from Wheego in Antalya?
You know that the combination of affordable prices and high-quality service is the key to an excellent car rental. With Wheego in Antalya AYT Airport, you can expect an affordable price that will be accompanied by many positive points. A large selection of discount cars, a friendly atmosphere, fast work, and outstanding customer support are iconic features of Wheego.
The company strives to make the car rental process easy and understandable for each customer, while constantly pays attention to the maintenance of a high level in everything. As a result, you will enjoy these benefits each time you pick up a car in Antalya Airport.
Wheego car prices are among the most competitive in the vehicle rental market and will satisfy even the most budget renters. Subsequently, in AYT Airport, Turkey you always receive a 100% ideal car at an affordable rate.
Of course, there are always additional ways to rent a car, saving extra money. The following essential tips are the step towards the best-priced vehicle:
book a car as early as possible - the optimal time is not less than 1-2 weeks before the pickup;
take advantage of long-term deals - each day will cost cheaper;
check prices on rental cars in surrounding locations;
select a vehicle according to your desires, but keep in mind that compact and economy vehicles are the cheapest cars;
use full-to-full option for fuel usage;
select the most cost-effective insurance protection package;
avoid one-way journeys;
try to find discounts and promotions;
How do you rent a car from Wheego in Antalya?
Our smart search engine does all the work for you. You can find the perfect vehicle from Wheego rent a car in Antalya AYT Airport by following these simple steps:
Scroll to the top of the page to find the search form. Make sure the desired pickup location is selected.
If necessary, type in another destination. Enter dates/hours to collect and return the car.
Hit the search button and wait a few seconds for the results to appear.
Sort the offers by the desired company, and use other filters to speed up the search process.
Select a suitable deal and add the necessary options/equipment to it.
Enter your personal details and payment information.
Confirm the booking and print the voucher sent to your email.
Next, you must show up at the counter at the designated time, with the necessary set of documents on hand. You can find the exact list of necessary paperwork in Wheego car rental requirements. After signing the agreement, the staff present will give you the keys and direct you to your car.
What is the cheapest rental car from Wheego in Antalya Airport?
Whether your aim is a budget-friendly rental car, with Wheego you are guaranteed to receive the cheapest deals. The supplier is ready to meet the consumer by offering quality cars at the lowest price.
The most beneficial deal in AYT Airport, Turkey is the Kia Picanto for $15 per day.
Remember that the total price for Wheego vehicles can be further reduced in the case of long-term rental.
What is the most popular Wheego rental car in Antalya?
The popularity of a car rental offer is determined by its rating among users. Very often, vehicles with the best price-quality ratio fall into this category.
One of the most popular cars from Wheego you may rent in Antalya AYT Airport is Opel Astra of Compact car rental class, which is available at a price of $25.334 per day.
What is the most popular car class from Wheego in Antalya Airport?
A wide Wheego vehicle fleet means you'll definitely reserve a car rental class you like the most.
Car type is considered to be a dominant criterion when choosing a vehicle for travel. That's why the suppliers have a huge range of offers to suit any purposes. Wheego in AYT Airport, Turkey is ready to provide a Economy, Compact, Premium, SUV, Luxury, 9seatcarrier, Standard, Full Size, Intermediate and Mini car. The most popular vehicle classes are:
Compact - Opel Astra or similar from $13 per day
Intermediate - Renault Fluence or similar from $18 per day
Suv - Nissan Qashqai or similar from $27 per day
Can someone else drive my rental car in Antalya?
You will be happy to discover that an additional driver option is a way to let another person getting behind the steering wheel of your rental vehicle. Although sometimes companies offer a free additional driver, most often it costs money – the option is paid directly at the counter.
It's possible to get several free extra drivers at once when making a reservation.
Should I buy extra insurance along with Wheego car rental in Antalya AYT Airport?
Each supplier wants to be financially secure. Therefore, car hire is available only with valid insurance. If you don't have it, then Wheego has a reason to refuse you.
There are several cases when you don't need an insurance protection plan:
you already have the initial coverage that applies to international pickups, and the type/class of car you select;
your credit card manufacturer has an extra insurance option, which covers you and rental cars abroad.
If you don't fall under any of the items, then obtaining any type of protection is the only solution. You can buy Excess fee insurance at the stage of reservation on our website and secure your deposit. Or, you can buy Full coverage insurance or Excess reduction at the Wheego rental counter.
What happens if you damage a rental car from Wheego in Antalya Airport?
In the event of damage to Wheego rental car AYT Airport, Turkey, your Collision Damage Waiver (CDW) will cover it. However, make sure your insurance comes with zero excess. If your CDW insurance has some excess limit, then you will have to pay a portion of the vehicle repair cost. Most often, you don't need to pay this amount separately. The company will simply write it off from the deposit you left when picking up a car rental Wheego Antalya.
What is the Wheego car rental late fee in Antalya AYT Airport?
As stated in the Wheego late return policy in Antalya Airport, customers have a 29-minute grace period. This means no charges apply if your delay is within this timeframe. If you return a car within 2 ½ hours of the agreed pick-up time, you will pay hourly charges. Finally, if you exceed the arrival time by more than 2 ½ hours, the company will charge you for an additional day of rental.
How old do you have to be to rent a car from Wheego in AYT Airport, Turkey?
Wheego car rental minimum age in Antalya is 20. Please note that if you are under 25, the company applies a Youthful Surcharge calculated on a daily basis. Also, underage customers may face restrictions on booking within more expensive car categories such as premium/luxury autos and passenger vans/minivans. For the exact amount of Youthful Surcharge and a full list of available cars, please fill out the search form based on your age.
As an exception, military and government employees on an official order can drive rentals from the age of 18. Also, they are exempt from paying the young driver's fee.
Can you use a debit card at Wheego?
Debit and credit cards are widely accepted by most international rental companies. However, it may vary based on the specific supplier and your location. For more details on Wheego debit card policies, refer to the Payment Information section on our search results page. Please note that rental agencies which accept debit cards may have additional conditions and restrictions:
Companies accept debit cards with VISA, MasterCard, or Discover logos. Prepaid cards or non-credit cards without these logos cannot be used as payment methods.
At airport locations, you must accompany your debit card with a return ticket in order to pick up an auto.
According to most companies` debit card policy, the name and address on the driver's license must match the renter's current address. Military and government employees don't require proof of address.
When using a debit card, only the renter's spouse or domestic partner may also drive their rental car, while other extra drivers are not allowed.
For a deposit, the company charges a certain amount from your debit card. This will be returned after the end of the trip, minus the fees incurred.
At Canadian locations, most suppliers accept US and International Debit Cards, while Canadian Debit Cards cannot be used for payment at airport pick-up points.
What is Wheego pet policy in Antalya AYT Airport?
With the majority of international rental agencies you can travel with your pet now, however, your pet must sit in a carrier. Plus, you need to clean the interior and remove any of the pet's hair to avoid cleaning charges at the end of your trip. The Wheego pet policy in Antalya Airport doesn't apply to Service animals - they can be in the car without a carrier. For more details, please, read Important Information for a certain rental agency on our search results page.
Does Wheego require refueling in AYT Airport, Turkey?
It all depends on the chosen Wheego fuel policy in Antalya. When using a full-to-full or same-to-same option, you must fill the car to its original fuel level before returning. Otherwise, the company will charge you for the missing gallons but at a higher price than the local pump rate.
Alternatively, you can prepay for a full tank of fuel. This allows you to avoid visiting the gas station. Unfortunately, this also means you`ll pay at the local rate of gas minus a per-gallon discount, which results in a higher total price.
Other car rental companies in AYT Airport, Turkey
You get access to multiple companies providing high-quality rental services in Antalya. They include the following international and local firms: AVIS, Alamo, Budget, Thrifty, Europcar, SIXT, Hertz, National, International Supplier, InterRent, Keddy By Europcar, Active, Pandora Car Hire, Rent Go, Surprice, Way Rent A Car, Wheego, Rhodium, Global Rent A Car, Green Motion, Goldcar, Garenta, First Car, Euronet, Essence, Eren Rent A Car, Enterprise, Circular, Central, Carwiz, Cargini Rent A Car, Avro, Avec Car Rentals, and Windycar
If needed, you can consider one of the companies above instead of Wheego. Pay special attention to Interrent with its customer rating of 7.9/10, Alamo with 7.5/10, and Enterprise with 7.3/10. For your convenience, you can check all the available car rental companies in Antalya AYT Airport and their ratings in the following catalog to make your final choice.