Cheap car rental in Sunny Beach, Bulgaria
At Rental24h.com, you get access to the best Sunny Beach, Bulgaria car hire deals. You don't need to go to the airport or train station to collect a car. You can book your pick-up at any convenient point within the downtown, and thus better plan your future route.
We offer reliable and well-maintained vehicles for all tastes. Our extensive fleet consists of mini, economy, compact, standard, midsize, and full-size vehicles, as well as minivans, passenger vans, SUVs, convertibles, pickup trucks, and luxury models. What's more, direct commercial relations with rental companies allow us to set the lowest prices on the market.
The cheapest car rental in Sunny Beach, Bulgaria is available for $12 per day. On the weekend plan, you'll pay $25, while weekly deals start at $66. For exact prices for the car you want, fill out our search form at the top of the page.
Want to start booking now? Check out the best offers in the following catalog, and click on the deal you would like to proceed with.
Unlimited mileage
Airport fee
Unlimited mileage
Airport fee
Peugeot 208 Electric
Economy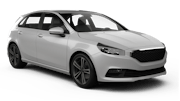 Renault Clio Estate
Estate
Toyota Corolla
Intermediate
Toyota Corolla Hybrid Estate
Estate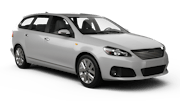 Opel Astra Sedan
Intermediate
Unlimited mileage
Airport fee
Unlimited mileage
Airport fee
Short facts about car rentals in Sunny Beach, Bulgaria
Don't know how to choose the perfect Sunny Beach, Bulgaria rental car? No worries! You can be guided by a company's rating, the cheapest price, or statistics from previous bookings. However, we have a better method for you - a quick overview! Check out the most important facts that we have highlighted about car hire deals in Sunny Beach, Bulgaria, and make a successful choice before your trip!
Most popular company
The most popular car hire agency found on Rental24h.com in Sunny Beach, Bulgaria is Addcar. Other TOP choices from customers are Avis and Budget.
Most popular car group
Mini
The car group rented the most and booked more often on Rental24h.com in Sunny Beach, Bulgaria is Mini car type.
Cheapest car model
Skoda Citigo
The cheapest car rental in Sunny Beach, Bulgaria is Skoda Citigo. You can find this model or similar after filling out our search form on top of the page.
Lowest model price
$12
The lowest rate for the rental car in Sunny Beach, Bulgaria with Rental24h.com is $12 per day. Note, that for this location the average car hire cost is $51.
Sunny Beach, Bulgaria car rental companies
Choosing a highly-trusted provider is an important step when organizing a road trip in Sunny Beach, Bulgaria. In addition, many renters are searching for a provider offering low prices and a large car fleet. Unfortunately, it can be a challenge to find a company that's ideal in every aspect.
The fact is that some suppliers focus on top-class cars and are more suitable for business travelers. At the same time, others specialize in the budget segment and cheap offers for leisure needs. Thus, the shortest way to find the best car rental company in Sunny Beach, Bulgaria is to follow your major needs.
Multiple suppliers provide a car rental service on our website. However, in Sunny Beach, Bulgaria downtown, you get access to 10 of them - AVIS, Budget, Hertz, SIXT, Addcar, Firefly, International Supplier, Low Cost Cars, TOP, and Top Rent A Car. No matter how many companies are available, we advise you to compare them according to various criteria, in order to find the best one across the whole city. If the list isn't very long, or if you only have 1 provider at your disposal, take a closer look at the entire fleet for an informed choice before deciding to book a rental car at another pick-up location.
All agencies available in Sunny Beach, Bulgaria downtown are presented in the following table. For more details, we have added each company's rating according to customer reviews.
Car rental locations near Sunny Beach
If necessary, you can pick up a car at one of the surrounding points. They include downtown car rental locations, offices near train stations, and counters within the airports.
Keep in mind that a particular rental car may have different prices in several locations, thereby allowing you to save money by finding the cheapest price. As a rule, in an off-airport pickup spot, it's possible to rent a car at the lowest price - this is due to the skipping of the airport tax. However, at the same time, the fleet of cars at the airport is greater, which expands your travel capabilities.
Anyway, compare deals in nearby locations to Sunny Beach, Bulgaria before making your final choice.
Nearby car rental locations at airports
Nearby downtown car rental locations
Map of locations near Sunny Beach, Bulgaria
Want to rent a car in a different spot? For your convenience of finding the desired car rental location near Sunny Beach, Bulgaria, you can check the pickup point map of the surrounding area. This will allow you to have the car exactly where you need it.
Pick up places are situated within easy reach, which makes it possible to get to them by bus or taxi without any problems.
Each location provided has contact details, including address, phone number, and approximate distance from Sunny Beach, Bulgaria. By clicking on any of them you will get a list of available rental car offers there.
How much does it cost to rent a car in Sunny Beach
The average price for a rental car in Sunny Beach, Bulgaria is $51 per day. In terms of minimum and maximum rates, you will pay between $12 and $128 per day. Based on this, the average weekly cost is $270, while the highest and the lowest rates fluctuate between $66 and $677 per week.
Keep in mind that the main price decider is the size and class of the car. Naturally, a luxury car rental in Sunny Beach, Bulgaria will cost more than an SUV or an economy model.
The next factor that can raise or lower the daily rate is the duration of the trip. Thus, a weekly or monthly car rental costs less than a 1-5 day keep in a per-day equivalent. Finally, the price depends on seasonal demand and availability. The difference between prices during high and low seasons can be up to 50%.
Want to find the best price for car rental in Sunny Beach, Bulgaria? We know several effective methods. One of them is to compare similar deals from different companies. This will allow you to choose an offer with excellent value for money. Another way to economize is to book in a downtown spot rather than at the airport. When picking up a car at the airport, you will pay 26% more due to extra charges and taxes. Therefore, collecting a car in a downtown location is the right decision for a budget-friendly trip.
For exact rental rates in Sunny Beach, Bulgaria, fill out the search form at the top of the page. Also, you can find approximate prices for all available companies and car categories in the following table.
| Vendors | Mini | Economy | Compact | Standard | VAN | SUV | Full Size |
| --- | --- | --- | --- | --- | --- | --- | --- |
| | from $17.55 | from $18.09 | from $24.23 | from $41.24 | from $61.86 | - | - |
| | from $12.40 | from $15.46 | from $21.96 | from $33.47 | from $109.07 | from $36.26 | - |
| | from $25.59 | from $14.36 | from $29.70 | from $22.95 | from $36.98 | from $32.89 | from $48.98 |
| | - | from $14.05 | - | from $16.25 | from $36.12 | from $24.17 | - |
| | - | from $20.33 | from $25.27 | from $25.67 | from $63.21 | from $40.94 | from $88.88 |
What is the cheapest rental car in Sunny Beach, Bulgaria?
Picking up an inexpensive rental car in Sunny Beach, Bulgaria gives you the chance to spend money on entertainment or something more important to you. The cheapest deals in this location are from SIXT that offers the Mini Skoda Citigo at a price of $12.402 per day.
Obviously, you don't have to contact the supplier directly - you can do this on our website by filling out the search form. Before you confirm the reservation in Sunny Beach, Bulgaria, carefully read the rental conditions, including mileage, insurance, features of the fuel policy, as well as the availability of additional options. Make the payment only after everything is checked.
Which rental cars I can rent at Sunny Beach, Bulgaria
Do you want to rent a car with 7-seat for the whole family or a fuel-efficient compact car rental? Maybe, only a premium vehicle is able to satisfy your ambitions? No problems! Choose a car according to the number of passenger seats, type of gearbox, trunk size, and of course by class in Sunny Beach, Bulgaria. The following categories of vehicles will fit your any purpose:
Compact - Mitsubishi Mirage, Chevrolet Spark or similar
Economy - Ford Fiesta, Kia Rio or similar
Mid-size - Hyundai Elantra, Nissan Versa or similar
Full Size - Chrysler 200, Toyota Camry or similar
Minivan 7-seater - Dodge Grand Caravan, Chrysler Town and Country or similar
12-seater van - Ford Econoline or similar
Luxury - Cadillac XTS, Nissan Maxima or similar
SUV - Ford Ecosport, Toyota RAV4 or similar
Cargo Van - Ford Ecoline 150 Commercial or similar
Convertible - Ford Mustang Convertible, Fiat 500 Convertible or similar
Before booking, carefully analyze what rental car you exactly need, and only then confirm your reservation. This will help to make your trip as comfortable as possible and avoid unnecessary expenses.
Car rental conditions in Sunny Beach, Bulgaria
Whether you book a short- or long-term car rental in Sunny Beach, Bulgaria, the company you choose directly affects your future travel experience. Each supplier has a unique list of requirements, recommendations, and prohibitions that make up its Terms and Conditions. Moreover, these conditions, also called policies, may vary depending on the location.
Even certain bonuses and loyalty programs may be available only in selected spots. This is why it's important to study the car rental conditions applicable to a particular destination.
When you rent a car in Sunny Beach, Bulgaria, the policies of the companies represented in the location are approximately the same. According to them, in order to book a car, you must meet the following requirements:
Comply with the stated age limit
Have a valid driver's license
Provide a credit/debit card in your name
Present any other document the company may require
If all the conditions above have been met, the supplier will give you the green light to rent a vehicle. After this, you can add various extras to your deal, specified in the Terms and Conditions of the agency. Popular additional services and products for car rental in Sunny Beach, Bulgaria include:
One way rental
Additional driver option
Border crossing
Car seats, GPS, winter tires, special equipment
After-hours pick up/drop off
Prepaid fuel
Roadside assistance
Additional insurance
These options can be applied either at the booking stage on our website or you can add them and pay for them at the counter.
If you can't decide which company to choose - international or local - scrutinize and compare their conditions and car rental rates in Sunny Beach, Bulgaria. For a faster analysis, check the table with all available providers, their pickup type, fuel policy, and bonuses.
Each car rental company has certain requirements regarding the driver, fuel usage, road trip geography, insurance, and payment. Therefore, when you rent a car, a very important step is to choose the appropriate provider so that its car rental conditions match your idea of ​​the ideal supplier.
Is unlimited mileage what you are interested in? Or maybe breakdown assistance and a cheap young driver surcharge matters? And what about bonuses? No worries! You will definitely find the best rental car according to your desires.
Check out the following table containing vendors in Sunny Beach, Bulgaria, their pickup and return address, fuel policy, and the special benefits you get with along with their vehicles.
Vendor
Pick-up type
Fuel
Bonuses
Excess Fee 2
-
-
-
-
Pick up and return full

Airport fee
Breakdown assistance
Unlimited mileage

900 EUR - 1,200 EUR

$1,010.87 - $1,347.83

-
-
-

800 EUR - 1,000 EUR

$898.55 - $1,123.19

-
Pick up and return full

Younger driver
Breakdown assistance
Road tax

100 EUR - 600 EUR

$112.32 - $673.91

-
Pick up and return full

Younger driver
Breakdown assistance
Road tax
Unlimited mileage

500 EUR - 2,000 EUR

$561.60 - $2,246.38
This sum will be held on your credit card within the rental period, unless you've purchased full insurance.
How old do I have to be to rent a car at Sunny Beach, Bulgaria
Passion for traveling doesn't depend on age, so it's not a secret that many young adventurers want to rent a car to bring their travel plans to life.
The only obstacle to this may be the policy of the car rental companies in Sunny Beach, Bulgaria. Fortunately, if you are a young driver, you can still count on a positive answer, because the minimum age to rent a car in Sunny Beach, Bulgaria is 21 years old. But there are some nuances that you should consider:
The price of a rental car will be higher than for experienced drivers who are over 25 years old.
Daily young driver surcharge is added to the total rate for each under 25 renter in Sunny Beach, Bulgaria. This means the final deal price will rise by $15-35 per day. Keep this in mind when planning your travel budget, and look for providers with the cheapest young driver fee or car rentals with no fee
Underage drivers may be refused to rent premium vehicles, convertibles, minivans, passenger vans, because of the great financial risks to vendors.
Despite some features, under 25 or even under 21 deals won't cause problems when using Rental24h.com, and you can pick up your dream car regardless of age.
Need more information about underage deals? Then check out the following links:
FAQ about car rentals in Sunny Beach, Bulgaria
How to get a cheap car rental in Sunny Beach, Bulgaria?
Affordable price is what almost every renter wants to get. Of course, it may not be as low as you want, but there are several methods to increase your chances of choosing a car without the risk of overpaying.
Here's how to rent a car at the most favorable financial conditions in Sunny Beach, Bulgaria:
Book your vehicle as early as possible. Your rental car will cost less 7-10 days prior to the journey.
Plan to start your trip on a weekday. This will allow you to reduce the daily cost of a vehicle.
Travel as long as possible. As a rule, the longer the period of rental, the lower the price of each day. Consequently, the total cost of a 7-day rental may be lower than what you pay for 5-6 days.
Explore prices in the nearby pickup spots. Very often, your favorite model can cost there a few dollars a day cheaper.
Benefit from a small car. Obviously, the smaller the vehicle, the cheaper it is. Plus, you can further save on fuel.
Return the car to the same location. One-way car rental is not considered to be a budget-friendly option, so avoid it if possible.
Don't cross the border. This will cause extra payments and excessive material losses.
Look for special offers. Discounts and promotions from rental car companies in Sunny Beach, Bulgaria will help to reserve a car up to 20% cheaper.
What is the best car rental company that provides rental cars in Sunny Beach, Bulgaria?
A good provider means not only a low price for vehicles. Such parameters as car quality and cleanliness of the interior, maintenance on the counter, the degree of simplicity and features of the pick up/drop off processes also matter. They affect the overall impression of car rental experience and allow you to choose the best supplier. Judging by the reviews of our renters, the following companies have the the highest rating in the city features Sunny Beach, Bulgaria
ADDCAR – 8.8 / 10
TOP – 8.3 / 10
SIXT Franchise – 7.6 / 10
What rental cars are considered to be the best in Sunny Beach, Bulgaria?
The correctly selected deal is a guarantee that you won't overpay the extra money, and at the same time can fully enjoy the trip by using all the advantages of the vehicle.
At Rental24h.com, you will be amazed by the rich selection of cars: compact, economy, mid-size, premium, minivan, SUV, convertible – they will suit your wildest travel plans.
Do you have a grandiose trip with your big family in Sunny Beach, Bulgaria? The 7-seater minivan Dodge Grand Caravan will give comfort to passengers and the necessary space for luggage.
Are you a budget solo-traveler who needs a fuel-efficient rental car? Kia Rio, Ford Fiesta or similar are at your disposal.
Also, the Ford Mustang convertible fits perfectly into the concept of a summer trip in Sunny Beach, Bulgaria, while such luxury cars as the Cadillac XTS or Chrysler 300 will be the perfect complement to your image on a business trip.
For those who need a car to explore country roads or national parks, an SUV will be the best offer.
A comfortable mid-size or full-size sedan is another option that will allow you to feel the king of the highway.
Can I pay for my rental car with a debit card in Sunny Beach, Bulgaria?
Yes, you can pay for your reservation with a debit card on our website. But car rental deposit is the only obstacle that may not allow you to pick up a car with a debit card. What does this mean?
Companies need a financial guarantee of driver liability for damages, fines and possible penalties that are not covered by insurance. This is a certain amount of money which is part of the credit limit of a bank card. Accordingly, it can be blocked on a credit card only.
Can someone drive my rental car?
Yes, you may have one or several people at once except you who can drive your vehicle. To do this, you need to include the additional driver option in your contract, while your authorized person must meet the same requirements and have a driver's license and an ID passport.
This option can be chosen both at the online reservation stage and requested directly on the counter/office of the company in Sunny Beach, Bulgaria.
The cost of an extra driver is approximately $10 per day, but very often suppliers offer additional driver options free of charge.
What insurance should I choose for my car rental in Sunny Beach, Bulgaria?
A road trip always brings positive emotions, vivid impressions, and pleasant memories. However, it can sometimes be overshadowed by various unpleasant incidents on the road, and as a result, you may incur material liability.
If you want to fully protect your rental car, then full insurance is the only way to avoid any further expenses. You can purchase it during pick-up at rental desk. Of course, full insurance is ideal, but it can be assembled from several types of coverage.
First, you need CDW/LDW insurance that will protect your car from damage and theft. It has a certain excess limit which shows the amount with which your responsibility begins.
The second type is PAI/PEC package. It's needed to reimburse expenses associated with obtaining medical care by the driver or passengers.
Another must-have protection is SLI. It cancels your liability in case of property damage/personal injury caused to third parties.
All events that are not covered by insurance are usually within a deposit amount. Therefore, you don't need to worry about anything, but enjoy your trip!
What type of fuel policy to choose in Sunny Beach, Bulgaria?
The type of fuel policy shows how you will refuel your car. If you don't want to spend time at a gas station and devote all your free time visiting sights and entertainment venues - choose prepaid gasoline.
However, a more preferred option is "pick up full, return full" option. This means you collect a car with a full tank of gas, and you must drop it off with the same amount of fuel. Before returning the car in Sunny Beach, Bulgaria, you will need to visit a gas station to refuel the tank of your rental car.
As a result, you will only pay for the fuel you used, and the price of 1 gallon will be much lower.
How to pick up a rental car in Sunny Beach, Bulgaria?
A car rental pickup is a very serious procedure, because any problems on your part may force the company to cancel the deal, which will completely ruin your upcoming trip. To prevent this, follow a few important tips:
Check the availability of documents that are needed to pick up your rental car in Sunny Beach, Bulgaria You will need a driver's license, IDP (if necessary), any identification document, and a printed reservation voucher.
If you want to have an additional driver, the same paper set must be provided by each extra driver.
Make sure your credit card expiration date is in order and the credit limit is enough to block the deposit.
Try not to be late when looking for a counter. If your plane is delayed, notify the car rental provider.
Carefully study the contract, and if required, specify the details that you don't understand.
Add the necessary additional options or equipment.
Before you collect your rental car, make sure that the model meets the declared specifications.
Examine the car for scratches. If present, take photos and ask the employee to mention them.
Check that the amount of fuel in the tank is in accordance with the chosen fuel policy.
If everything is OK, start the engine and go!
How to drop off a rental car in Sunny Beach, Bulgaria?
Easy car rental return in Sunny Beach, Bulgaria is exactly what you need after an exhausting trip. How to make it as quick and trouble-free as possible? Just check out a few tips:
Always keep in mind the exact car drop-off time. Estimate the approximate time necessary to reach the return place, taking into consideration possible traffic jams.
Don't be late. Otherwise, you risk paying for the next rental day.
Don't forget to refuel your car on your way to drop-off point and don't lose the receipt.
Maintain your car clean or you will have to pay for returning a dirty vehicle.
Make sure that the necessary documents are with you.
Don't leave personal items (bag, wallet, phone, charger) inside the car.
After arriving at the spot, inform the company that you are ready to return the rental car.
Pass the keys to the provider's employee or simply leave it in the place agreed in advance.